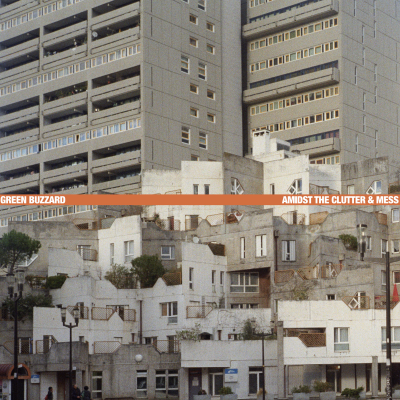 Download image
Release Date 11/08/2019
(I OH YOU)
NACC
2017 was a weird year for Paddy Harrowsmith, the man behind Sydney's Green Buzzard. After releasing the "Space Man Rodeo EP" the band had dissolved into a solo project, his relationship had broken up and he found himself swimming in the classic late-20s malaise of, "who am I and what the hell am I doing with my life?"
"After the band, I was a kind of disillusioned with music and took a bit of time off away from it. I wasn't really sure what to do," Paddy says. "'Amidst the Clutter & Mess'" was one of the first songs I wrote in that period. I was trying to work out if I still wanted to make music and if I did, what music I wanted to make. I wasn't really sure where my place was as a white guitar playing guy. I wasn't really comfortable making music anymore. That song came out and set the tone for what the album was going to be."
The songs that followed started to paint a picture of Harrowsmith wading through the clutter and the mess of confusion to not only work out what kind of music he wanted to make, but to also make sense of the world around him and to find his place in it.
Armed with an album's worth of songs, Paddy found himself, physically at least, in producer Dave Sitek's rambling studio in the Glendale Hills in California. Home not only to the eccentric Sitek (production wizz behind Yeah Yeah Yeahs, TV On The Radio and Weezer), but also to his Russian sound engineer, his brother who tends to Sitek's organically farmed marijuana plants throughout the house and property, "Cuz", his housekeeper and childhood friend from Baltimore who sits in the garage all day making necklaces out of pine cones, three huskies, three cats, and an inexplicable number of BB guns.
It seemed Paddy's mental clutter had found its perfect physical counter-part. Strange then that out of the seeming mania of Sitek's space, came the simple mantra of less is more.
"It was haphazard," laughs Harrowsmith, "but there was definitely method to his madness." And Sitek knew how he wanted the album to sound. "He loved the songs themselves, but didn't like the way the demos sounded," says Paddy. "And didn't at all want to do that kind of sound, ie make it all fuzzed out. A couple of the tunes had a bit of a Smashing Pumpkins, layered guitars kind of vibe going and he was like, "No, I'm not interested in doing that"."
Instead they began recording each track by stripping it back to just acoustic guitar, de-cluttering the song, and then rebuilding it back up with just its essential parts. "Once we had acoustic, drums and bass on every track we kind of listened back and were like, "You know what? They're sounding great right now as is, we kind of don't even want to add much more on", Paddy says. "It was him constantly drilling into me a less is more thing. At one point I was trying to do a fiddly guitar overdub and he was like, "You fucking indie guitarists man!" and named the track "Paddy Over-Doing It"."
The result is a textured and perfectly crafted indie rock record and while it's far from being anywhere near a singer-songwriter record, there's a very human impetus at the heart of each song: one person singing their song to you. "A real big inspiration for that was Beck," says Paddy. "Cos you can always hear that in his music. Even though there's so much going on around him, it does actually sound like it's all within one guy. It's not folk or anything like that, but you can hear that it's just him in there."
This newfound clarity and directness also allows another aspect of Harrowsmith's growth as a tunesmith to shine. "This is the first time the song writing has really reflected what's going on in my personal life," he says. On earlier releases Paddy had pushed his own story to the background, choosing to tell fictional, conceptual and character driven stories over his own. "I think it was a defence mechanism, a way to mask a lot of things," he says. This time though, his life and thoughts are front and centre.
Across its 12 tracks, the record covers a lot of themes: break ups (I Don't Want To Be Alone), resignation (Nothing's Happening Here), the desire to up stumps and retreat to a rural idyll (Country Living), acerbic takedowns of Sydney's greedy excesses (Suburban Dreaming) and existential confusion, as life and the future seem to stretch out into uncertainty (Wooden Dog).
Ultimately though, Amidst the Clutter and Mess is a statement about learning to be comfortable with yourself, no longer keeping the world at arm's length by telling fictional stories, or hiding behind fuzz and overproduction. And for a debut record, that makes perfect sense. It sounds like a coming of age.