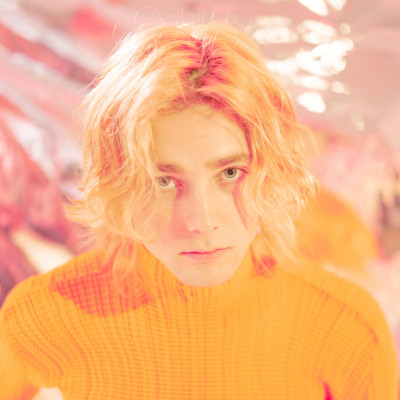 Download image
Release Date 06/05/2019
---
[javascript protected email address]
Instupendo, aka Aidan Peterson, floats into earshot with original euphorically melancholy songs that listeners say they turn to when they feel, or want to feel, a particular way. Having steadily attracted fans since he was a preteen via Soundcloud, his music is emotional, therapeutic, and nostalgic. And more recently, he's collaborated withToro Y Moi and Rostam, two stylistic counterpoints in his orbit.

His third EP, 'Boys by Girls', finds Peterson taking his signature euphoric melancholia in new directions. Featuring his own vocals for the first time, it represents a beautiful step up as production goes, finding him experimenting with textures and using unorthodox sounds within his distinctively interwoven melodies. The EP's first single, "Cinderella", is out today along and is the first a series of tracks to come ahead of the new EP's release. The full seven-track 'Boys and Girls' EP is set for a June 5th release date. Check out the premiere at Highsnobiety and stream "Cinderella" now at Soundcloud, YouTube, and digital services. Catch Instupendo opening forTeen Daze on June 1st at Le Poisson Rouge in New York.

Recorded largely between September 2018 and January 2019, 'Boys by Girls' 'far-flung' inspirations range from Gud to The 1975, Lapalux to Four Tet, Japanese House to Baths, and from Tourist to Toro Y Moi. Following the release of his sophomore EP 'Faces I Know', Aidan added analog tools to his set-up and infused his production with a new energy. Likewise, live performance experiences with Shallou, George Fitzgerald, Ryan Hemsworth and Giraffage undoubtedly informed the more uptempo direction some of the EP's songs have taken. Deliberate, however, was the move to rely exclusively on his own vocals for this third outing. Having reached a point of comfort with his voice, it became part of the sonic direction and identity of the project and adds another layer to the textured sound.

The EP explores state of mind, emotion, and identity. Notes Instupendo, "I've always felt closer to girls, like I can be myself with them without having to conform to the kinds of expectations guys often project on each other. The stories and feelings I'm conveying through many of the songs on this project are about being able to just "be", to be the boy I am when I'm around girls."

Atmospheric opener "Entrance" is short and personal, setting the tone for the six songs that follow. Pop-leaning first single "Cinderella", about the safety respect affords, begins with ethereal strings and hazy, muted keys before transitioning to resonant base and distorted synths punctuated by unorthodox sounds. Warped layered vocals lend a trance-like vibe to the whole affair while an unexpected funky instrumental interlude adds groove. "Talk" is an anxious, unconventionally arranged stream-of-consciousness ramble set to uneasy synths and ambient textures. More than anything else on 'Boys and Girls', it most closely calls to mind Instupendo's recent collaboration with Toro Y Moi, '50-50'. The EP's penultimate track, "Antidote", is a bass-forward fever-dream with swirling, propulsive synths and processed harmonized vocals.

'Boys by Girls' marks a turning point for the 19 year-old Instupendo, showcasing his production versatility while introducing surprising new capacities. It's his distinctive sound, evolving in unexpected ways.