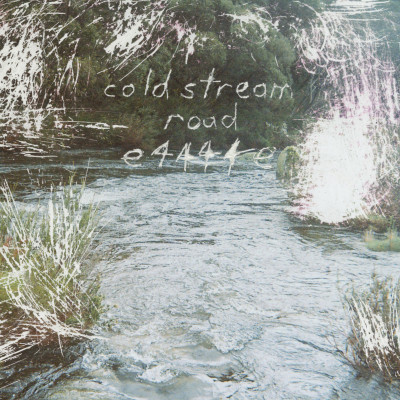 Download image
Release Date 06/12/2020
(Spunk Records)
NACC
e4444e, or Romy Church, as his parents named him, finds the word experimental tough to grapple with. Although he is often described as something like electronic experimental, or bedroom pop, he finds the word exploratory more accurate. 'I feel like experimental now implies a sound, or a type of music. It seems like it used to point towards people being free with themselves to use music as a river to express in, without the restraints of superficial judgement. Exploratory seems better now. or maybe just Romy's sounds.'
His debut album, the electroacoustic Coldstream Road, brings light to this rationale. It's sounds and melodies aren't particularly challenging in a scholarly sense, nor does it try to be. Instead, simple and sometimes traditional instruments, acoustic guitars, pianos, drumkits, as well as samplers, drum machines and synthesizers are used in the 48-minute running time to express intuitive feelings. Melodies snake their way through cycles of chord changes, as e4's voice calls to something basic and confusing. 'This one was made kind of using broad brush strokes, my relationship with music was changing as I was using a lot more acoustic guitar and a lot less electronics and sequencers. I cared less about making something unique and in return made something I think is a lot more unique than what I've done in the past. It's the sound of me relating to instruments, to melodies, to lyrics. It has a very natural, earthy, wet green feeling to me.'
The album sprawls across its time aloud to many different places. The album's opener (and closer) is patient, slow paced, a simple and human acoustic song backed by watery percussion while feedback screams, muted in the background. There are short bursts of energy and bittersweet melody in the form of Wind Nocturne, or Wolves. Short soliloquies of dreams and thoughts floating by in lukedrivesby and Gold. Longform meditations on domestic and simple lives on lakedawn or what Romy refers to as the soul of the album, the 6 and a half minute long "Rum Mountain". 'After I wrote that one, I feel like the album birthed itself, the direction, the way it would be played, what it would be about and what it would feel like to be in it'.
Through all of its different scenes and sonic landscapes, the album as a whole is a place which embraces homely feelings and intuitive ways of life. The songs and sounds are warm and slightly bizarre, making peace with the domestic way of life. in Solar, e4 sings "could you wake up a day, feel the air align with space, brave the cold, see no mould, find the good things in your home, now you're home?". Romy considered calling the album home for a long time but decided on Coldstream Road. 'I saw the name of that road going up the north coast of New South Wales, the effort to make Australia feel like a home, my house to feel like a home, my body to feel like a home. I wanted the album to help me get to these places, I guess. It's all very vague and confusing. But I think of cold rivers as holy, they realign you, you are born again when you step out. When you're in them, you're nothing, you're just water."
After having almost finished tracking and mixing the album, as this project was recorded and mixed entirely by Romy as all e4 endeavours are, Romy lost everything on the album but most of the acoustic guitar and vocal tracks after leaving his hard drive on the roof of his car and driving away. This spurred him into re-recording the majority of the album at home in about four days. 'I was working pretty much as soon as I got up till about 6 in the afternoon, Heidi was making me food and I ate a lot of roasted almonds and drank a lot of coffee. It didn't feel rushed, I just knew exactly what I wanted to do and did it. I think it kind of needed to happen, it made the album in what I wanted it to be, just me letting the songs dress themselves, I'd spent a year or so writing and thinking about how I wanted it to go before I started really recording. Some of the songs are over a year old since recording. Big vague figures. I didn't want the album to feel overproduced or contrived."
After that, e4 spent the next week or two mixing the album and then it was done. Romy quotes Neil Young's producer David Briggs as inspiration, "The more you think, the more you stink". The result is a cosy, rough around the edges recording of honest feelings and the sound of instruments being hit by hands.
Romy cites Incredible String Band, Buck Meek, Michael Hurley, Arthur Russel and Pavement among some of the biggest influences of the LP.