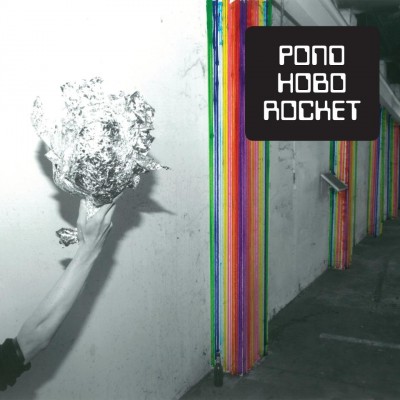 Download image
Release Date 08/06/2013
(Modular)
Hobo Rocket is the fifth LP from Perth, Australia based five-piece Pond. Made up of Nick Allbrook, Jay Watson, Cam Avery, Joseph Ryan and Jamie Terry, the band set out to make a record that captures a portion of rock music's great, decadent history through a personal lens.
Hobo Rocket is brief and dark. It captures the live intensity the band cultivated during their tour across a large swath of the world around the release of 2012's Beard, Wives, Denim. "This album is supposed to represent that thrill that I get watching Youtubes from [the Beard Wives Denim] era," says Watson. "That thrill that we never had on record. This was our attempt to make it tuneful, not just yelling and throwing each other around." 
While that album was made up of lush thickets of sound that untangled themselves into languid mini-epics, Hobo Rocket casts a shadow across that, bottling the confrontational energy of their live show, tightening up their arrangements and spitting them back as compact whirlwinds of sound. 
"It was the kind of mindset of finding our own little place in music," says Allbrook, "and being more of a functioning band, which is what makes it noisier and denser. This one we went as brutally hard as we would at a show. We wanted the songs to sound loose and live."
Single "Xanman," long a live staple, is built on anthemic guitar stomp and drum breakdowns that warp into a vortex of loopy intensity. Allbrook's vocals whoop into drawn out yowls and almost-past-the-point-of-sanity distorted rasps that would sound pretty perfect blasting from the tape deck of a flame-decaled Camaro in just about any decade.
But Pond are not a retro or ironic band. They genuinely love what has come before in rock, but they don't have a problem skewering the genre in all its comically over-the-top glory. This love and perspective comes across in all the songs on Hobo Rocket, which is vital but reverent.
The impetus behind Hobo Rocket, like the rest of their back catalog, is to make music that their teenage selves would listen to, while still creating deeply layered songs that engage with their current interests. "There was more attention being paid to being our own band," Allbrook says, "rather than just doing the first thing that came to our heads which was also usually the last thing that had gone into our ears." There's genuine love and perspective here - the tracks are messy, imperfect, jagged and real.
Hobo Rocket is a diverse album: from the groggy spoken word of the title track (featuring Perth fixture Cowboy John on vocals) to the glittery psychedelia of "O Darma" to the ominous Black Sabbath stomp of "Aloneaflameaflower." The record is, first and foremost, a deliberately fun listen, but it's worth digging deeper to discover a conflicted, sometimes sweetly sad, raucous love letter to a genre with no shortage of awesomely weird moments.
Tracklist
1.     Whatever Happened To The Million Head Collide
2.     Xanman
3.     O Dharma
4.     Aloneaflameaflower
5.     Giant Tortoise
6.     Hobo Rocket
7.     Midnight Mass (At The Market Street Payphone)