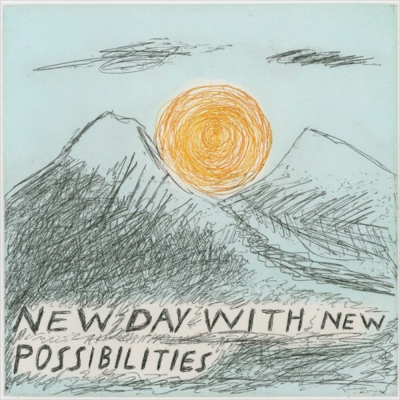 Download image
Release Date 07/30/2021
(Rocks In Your Head Records)
---
[javascript protected email address]
New Day with New Possibilities, the latest record by Sonny & the Sunsets , is clearly a companion piece to the cult effort Longtime Companion, the laid back country record which marked the beginning of the Sunsets as an explorative project and not just locked into one sound. It's an album that sounds like it's part of a genre that should have happened: sixties teen country music that merged with sixties pop. It's out July 30th on Rocks In Your Head Records.
There's a certain jangly nature to the first single "Ring My Bell" that doesn't just pull the curtain back for a sightline into Sonny's new batch of songs, but life in general as we all begin to emerge from our collective cocoons. The catchy singalong chorus is unmistakable, as is the infectious twang that helps put an exclamation on the entire piece.
Sonny describes: "It was before Covid, I had this big free empty studio in the hills, I was supposed to be painting, that was my initial plan, and I just began making songs on guitar, songs about being alone, songs about failed men, some dark tales of longing. I was reading some old western paperbacks, and I would go on these walks in the hills, come inside and write these kind of lonesome country songs. And that was it."

As often with Sonny & the Sunsets there is an almost Stonesy kind of laid back country sound to these songs. As much as the music ushers in a laid back country feeling, the lyrics are where this album departs from typical records of today. "The Lonely Men" is a Bill Callahan-ish dry observational take; a searing damning of broken men who cannot love. Lyrically Smith sets the goals high, "Earl and His Girl" and "Ride the Dark Trail" both sound like William Burroughs wrote a Louis L'amour style Western paperback.
New Day with New Possibilities joins with a kind of Michael Hurley home grown sound but sometimes leans into baroque strings sound as on "Driftin'" and "The Lonely Men." The Pedal Steel of master Joe Goldmark lifts the record into some Doug Sahm territory.
"Looks like I'm fat but I'm tough as new rubber, I heard you chose your last rancho cause he's rough, But , I am rougher, My boots may be full of mud, I have no bullits for my gun, But if you want to come, We can ride the trail together" starts Ride the Dark Trail, a love poem of sorts, and subtly connected to the late David Berman. 'heartbreak is my obsession/i teach the school of rejection...i'm on the board of depression/and i'm up for re-election', he sings during "Love Obsession," lyrics that sound like they could have sailed out of a lost Hank Williams classic.
Rocks In Your Head Records recently released Fake Fruit's newest self-titled release in March. New Day with New Possibilities can be pre-ordered here.