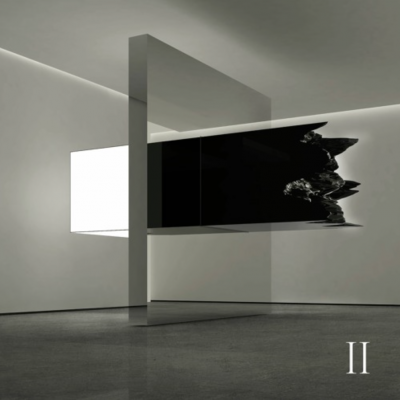 Download image
Release Date 12/04/2020
(City Slang)
---
[javascript protected email address]
Today Son Lux announce Tomorrows II, the second album in a far-reaching three-volume body of work. This second volume sees a more introspective, stripped back facet to the Tomorrows body of work and is to be released December 4th via City Slang, with physical editions of all three volumes to be released together in 2021.
As Tomorrows II opens, the listener joins an album already unfolding. The music provides an appropriate parallel for the sustained cacophony of the present moment, advancing a friction that reveals the strange in the familiar and the familiar in the strange. While this carefully crafted inversion acclimatizes the ear to tension, the steadily hardening exterior fractures at unlikely moments, revealing a strikingly visceral, emotional core. The process of creating Tomorrows is iterative in nature, with the lyrical content and music continually adapting and responding to one another and the shifting landscape of the moment.
Along with the announcement, the trio share two tracks – the album's lead single "Live Another Life" and an accompanying remix by NYC producer Nappy Nina entitled "Live Another Life (Heal For Me)".

"Live Another Life" deals with the tension of control and how identities can be bound together in relationships. A simmering percussive loop sets the stage for Lott's threadbare entrance: "I'm done asking you to be healed for me, I'm done asking you to heel to me." As the music approaches a boil, bursts of a smeared, hashy choir undergird Lott's lyrics as a flurry of drums snaps the song into an urgent tumble. Listen to it here.
The counter-part remix "Live Another Life (Heal For Me)" trades the tactile percussive sounds of the original version for an unstable swirling haze of guitar-generated textures, grounded by heavy, mangled 808 kicks and gut-punch snares. Nappy Nina deftly delivers angular cadences on her two verses, diving deep into the nuances of a fraying relationship, reflecting: "we forage and make believe, force a forest with made up leaves." Listen to the Nappy Nina collaborative track here.

Last week Son Lux expanded the scope of 'Tomorrows' even further, launching their own artist-interviewing-artist podcast series, entitled 'Plans We Make'. It sees the band members take turns speaking with guests about a shared theme in three volumes: Technology, Collaboration, and Voice.
The first episode of Volume 1 sees Son Lux's Ryan Lott joined by multi-platinum record producer Chris Tabron, who has worked with Beyoncé, Nicki Minaj, Mary J. Blige, The Strokes and more. Out yesterday, the second episode features drummer Ian Chang interviewing Sougwen Chung, a former research fellow at MIT's Media Lab and a pioneer in the field of human-machine collaboration. And the third episode of this volume, out next week, includes a conversation between guitarist Rafiq Bhatia and Deantoni Parks, avant-garde percussionist and cofounder of experimental outfits Bosnian Rainbows, KUDU, and We Are Dark Angels. More information here.
More info on Son Lux & Tomorrows II:
More pervasive than a virus, anxiety and urgency has spread across our physical and virtual landscapes. The growing inequities of centuries old and current day complexes of oppression has reached a critical and necessary breaking point, forcing us out of our severe isolation back together in a call for justice. All the while, the continued trajectory towards climate catastrophe still creeps across the horizon into our view, another result of the valuing of profit over people.

These defining traits of the present moment find parallels on the newest body of work by Son Lux: Tomorrows, a long-format album to be released in three volumes over the course of a year. On Tomorrows, Ryan Lott, Rafiq Bhatia, and Ian Chang train their sights on volatile principles: imbalance, disruption, collision, redefinition. But for all of its instability, 'Tomorrows' exploration of breaking points and sustained frictional places is ultimately in service of something rewarding and necessary: the act of questioning, challenging, tearing down and actively rebuilding one's own identity.

Arriving at a time of considerable uncertainty in the world, Tomorrows is ambitious in scope and intent. Born of an active, intentional approach to shaping sound, the music reminds us of the necessity of questioning assumptions, and of sitting with the tension.

From the start, Son Lux has operated as something akin to a sonic test kitchen. The band strives to question deeply held assumptions about how music is made and re-construct it from a molecular level. What began as a solo project for founder Ryan Lott expanded in 2014, thanks to a kinship with Ian Chang and Rafiq Bhatia too strong to ignore. The trio strengthened their chemistry and honed their collective intuition while creating, releasing, and touring five recordings, including LPs Bones (2015) and Brighter Wounds (2018). A carefully cultivated musical language rooted in curiosity and balancing opposites largely eschews genre and structural conventions. And yet, the band remains audibly indebted to iconoclastic artists in soul, hip-hop, and experimental improvisation who themselves carved new paths forward. Distilling these varied influences, Son Lux searches for equilibrium of raw emotional intimacy and meticulous electronic constructions.
Track List:
1) Warning
2) Molecules
3) Prophecy
4) Yellow Leaves
5) Out of Wind
6) Apart
7) Bodies
8) Weight of Your Air
9) Live Another Life
10) Borrowed Eyes